Taking the time to freshen the container plantings at your front entry will reward you all winter long and brighten your spirits every time you come home. Likewise, a window box planting can bring the outdoors in, where you can enjoy a foliage-rich scene from the cozy interior.
Creating an eye-catching and spirit-lifting winter container garden can be quick and easy. And really almost anything goes, plant-wise—as long as it looks good in winter. Think about texture and color echos. And just like in your in-ground garden, you'll want to strive for a variety of plant forms and leaf sizes.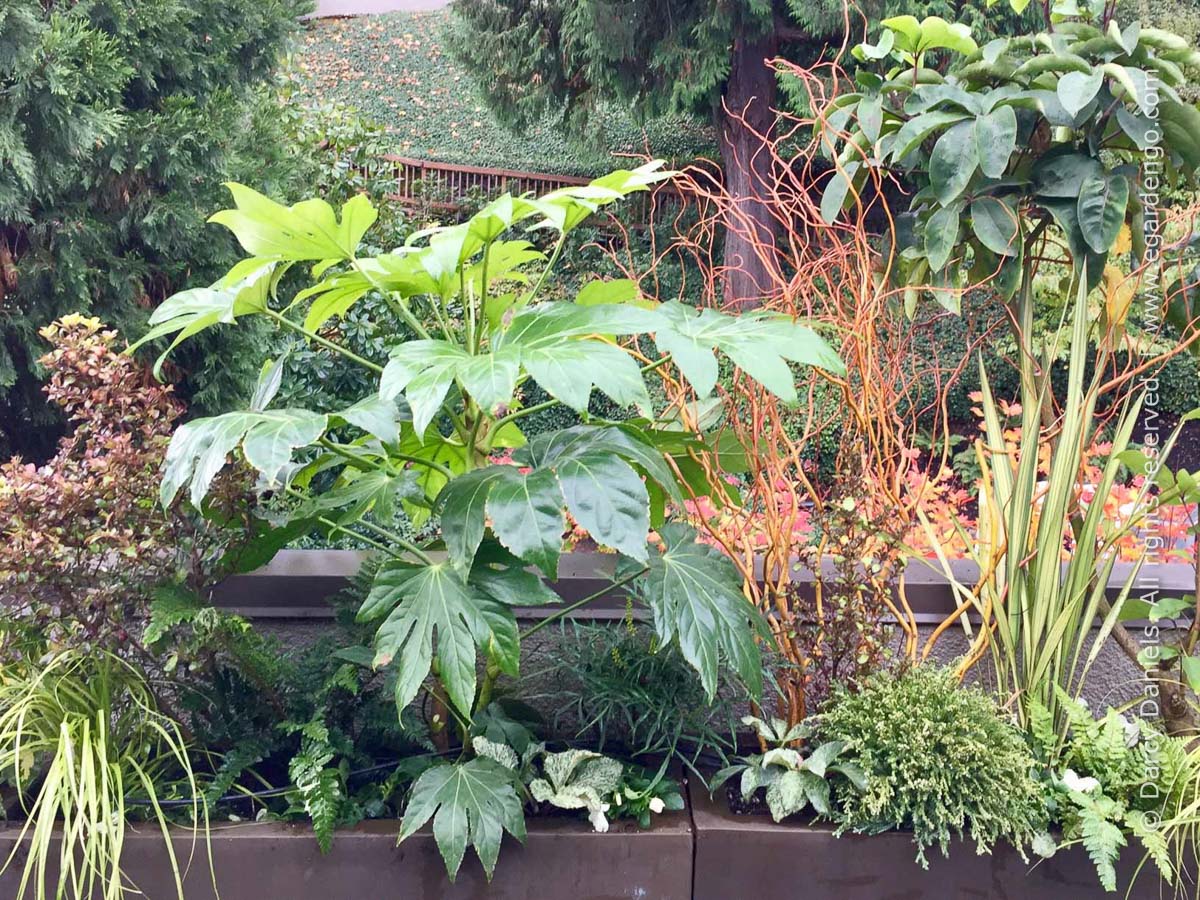 ---
In the image above, colorful curly willow stems play a key role (far right). And here's a pro hack—buy or cut stems from your existing landscape shrubs to conserve space in your container. You can usually find them at your local independent garden center or florist in autumn. Also featured prominently in the container above: Fatsia japonica, Carex 'Everillo', Tassel fern, Mahonia 'Soft Caress', Helleborus argutifolius 'Snow Fever', Chamaecyparis pisifera 'Snow' and finally a Coprosma to the far left echoes the coral tones of the willow stems.
---

GALLERY OF WINTER CONTAINER GARDEN IDEAS

---
---
Remember to consider your container—its color, shape, etc.—as an equally important component of your vignette. If you can weave it into your color story with creative color echoes or consider its shape as you create your composition, the overall effect of your winter container garden will be amplified.
And finally, it can help to think of it as a temporary installation—shrubs that will eventually be in-the-ground-big can start their life with you in a container. Creating a decorative scene in a high-traffic, regularly visible spot is a great way to temporarily enjoy evergreen shrubs and perennials up-close over the winter, before graduating them to an in-ground position in your garden come spring.
The focus of this post is on the building blocks of winsome winter container gardens—the plants! To dive deeper into the design aspects of creating container plantings, you might enjoy this post: How to Create Show-stopping Containers for Your Garden.
What makes a particular plant an appealing choice for your winter scene? This post is full winter container garden ideas to help you get started. Some of the best plant options are singled out based on their attractive evergreen foliage, winter flowers, colorful stems, or architectural form. However, your container planting really starts to come together when you start creating vignettes that combine a pleasing array of textures, colors, and forms. Listed below you'll find some of my go-to faves.
---
advertisement
---
---

SOME OF MY FAVORITE PLANTS FOR WINTER CONTAINER GARDENS

---