In this post I provide tips on how to design a container garden. Whether it's an exuberantly overstuffed single pot or a grouping of multiple pots, successful container plantings—just like in-garden planting schemes—strive to strike a delicate balance. Enough repetition to create a harmonious whole, tempered by enough contrast and drama to excite without resulting in chaos.
In this post, I've described different types and ways to design containers using a theatrical analogy. Fitting since containers are often used to create drama in the garden. I hope that the following principles will help give rise to fresh ideas as you design plant combination ideas for container gardens. And now, on with the show!
(Design credit for our lead image: Meredith Hildebrand, Vancouver, WA)
---
Design a Container Garden with Drama
MEET THE CAST OF PLAYERS
---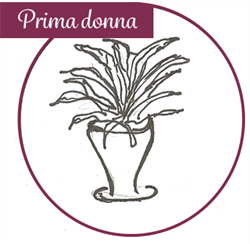 The life of the party!
These specimen plants are striking enough to be shown solo in a pot and they're prone to making a spectacle of themselves. They command attention and adore being in the spotlight, the center of attention. Think big, bold, and showy. Colorful, tropicalismo-inspired foliage, cascading fountains of strappy foliage, or an artful container planted with a strong accent plant these are just a few examples.
---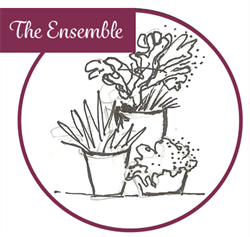 Stronger together than alone.
Growing plants in containers allows you to audition plants and combinations before adding them to your in-ground garden. Group several one-plant-per-pot specimens together to create a garden vignette that focuses solely on color, texture and form to create an artful scene free from the confines of having to make sure they're all a match in terms of their desired growing conditions. This can be a wonderful way to bring order to a collectors' garden—especially effective when the containers are of a similar theme and/or color scheme. An added benefit is that you can bulk-up slower growing, rare, and/or more costly plants and provide more care and coddling before expecting them to fend for themselves jostling for position out in the garden jumble.
---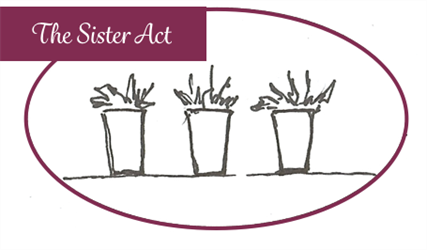 Create pattern. Divide Space. Establish Rhythm.
Repetition is an effective way to suggest movement and command attention. A series of containers create an effective lure—leading the eye, and then the body through the garden—like ushers signaling the way and then spelling out the story line. Lined up, they contribute a strong sculptural quality especially when the role is filled with a repeated specimen with star power—siblings in matching outfits, singing the same song. The repeated plants and containers lend a sense of cohesion to the whole—a chorus line of individuals in-step and in-sync. You can try this big or small—imagine a row of succulents down the middle of a table versus a row of plants in tall pots to provide privacy—same concept, different scale.
---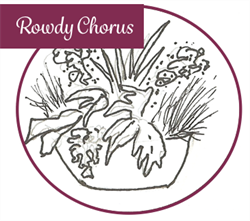 Rowdy and rambunctious—a veritable party in a pot!
This treatment is best suited to one-season plants such as flowering annuals and tender perennials. For example, tender foliage plants like coleus and potato vine; floriferous annuals like Calibrachoa, petunias, Cuphea; and the like. Select easy-care, long-blooming but self-cleaning, pest-resistant varieties that don't require a lot of fussy care. Do fertilize to keep the show going strong; cut back rampant growth as needed to keep the overall vignette in balance; and remove and replace (if needed) any plants that peter out before the end of the season. But mostly, keep the water and fertilizer steady, and stand back!
---
I try to be pretty choosy about what I plant in my garden. One of the things that I love most about containers is the freedom and flexibility they afford me to say "yes!" to the new plants that I'm constantly tempted by. I will often try a plant out in a container before allowing it access to the garden proper. Not infrequently, that's as far as the relationship goes. My curiosity sated; my garden intact.
---
advertisement
---
---
IN THE GARDEN—The The Prima donna
---
---
IN THE GARDEN—The The Ensemble Cast
---
---
IN THE GARDEN—The The Sister Act
---
---
IN THE GARDEN—The The Rowdy Chorus
---
---
advertisement
---