When striving to create a rich, multi-layered garden, adding a layer of bulbs is an enchanting finishing touch. They're the ultimate garden accessory. Just as the right necklace can make an outfit, bulbs can round out an existing color scheme in your garden.
---

ACCESSORIZE WITH BULBS

---
Bulbs can be an excellent way to accentuate details by marrying neighboring color stories. In my mind, bulbs are rarely the scene, but more accurately part of the scene.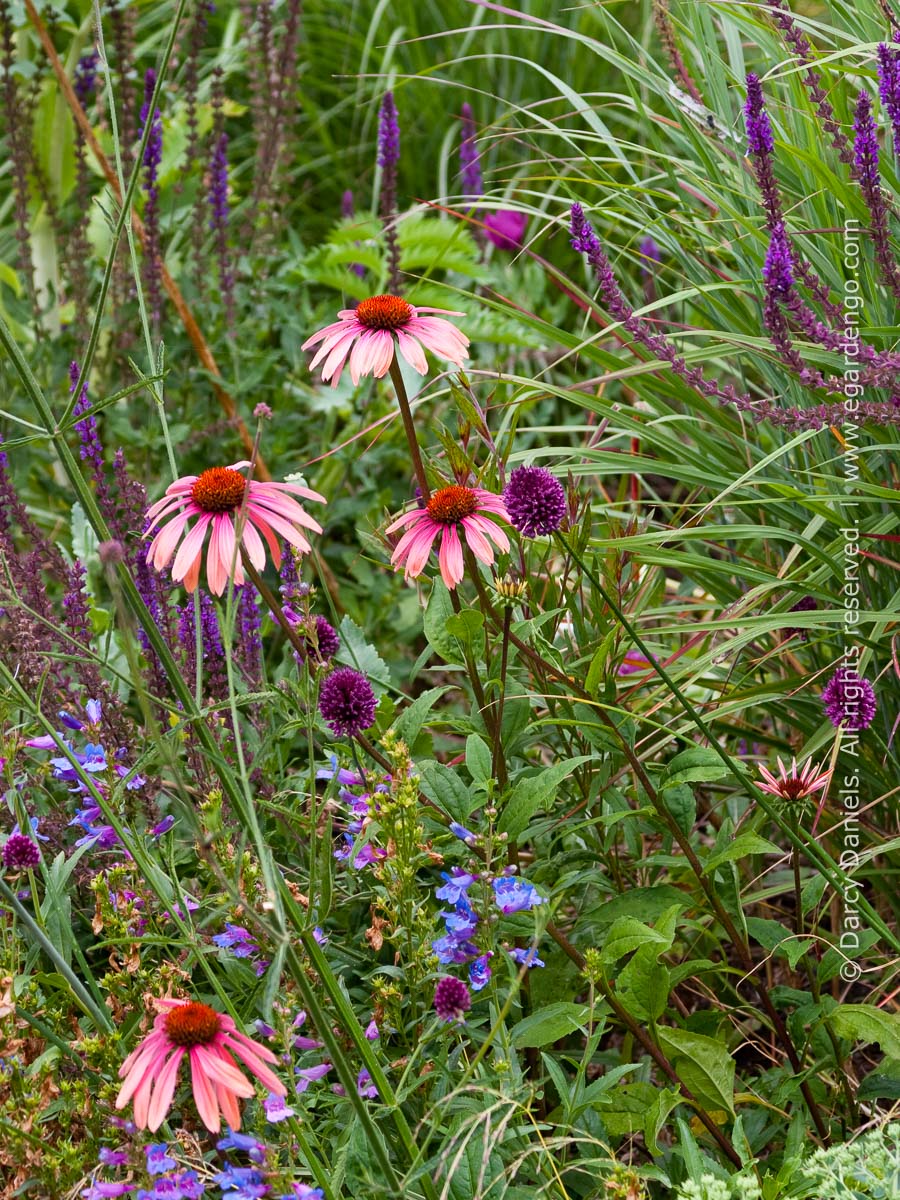 ---
In the photo above, the drumstick allium is perfectly at home, mingling amiably with the other perennials in this charming combination—it is joined by echinacea, salvia, penstemon, and ornamental grasses.
When using bulbs for color play, look for ways to complement other seasonal details. To achieve this, it might help to think about what else will be happening in your garden when they're blooming. How can you tie into that? Look for inspiration in emerging foliage, the color of nearby flowers and plants, or choose a color that will tie into a container or piece of art located nearby. The examples below help illustrate this idea.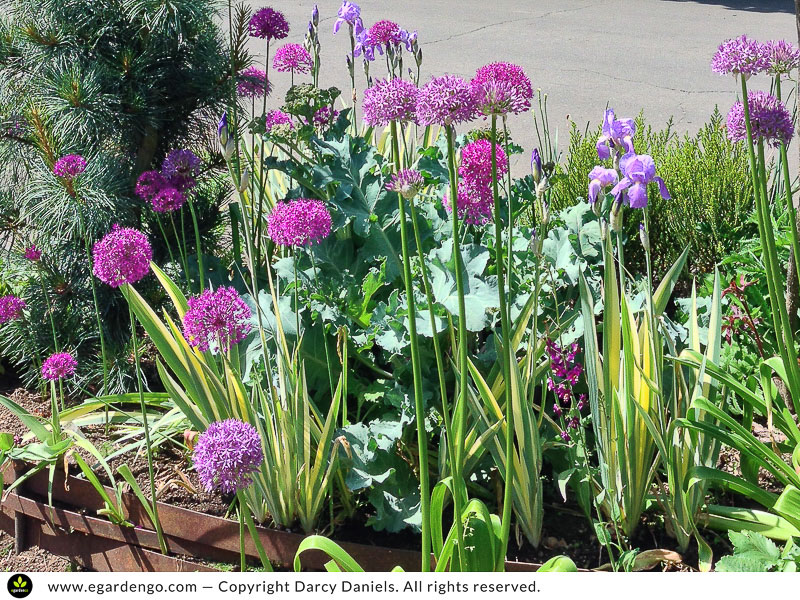 ---
I'm especially fond of alliums, and Purple Sensation is a favorite (above). Because of its size and the looser structure of its flower, it is particularly adept at sharing space—its purple orbs bob about, up and over, around and through neighboring plants.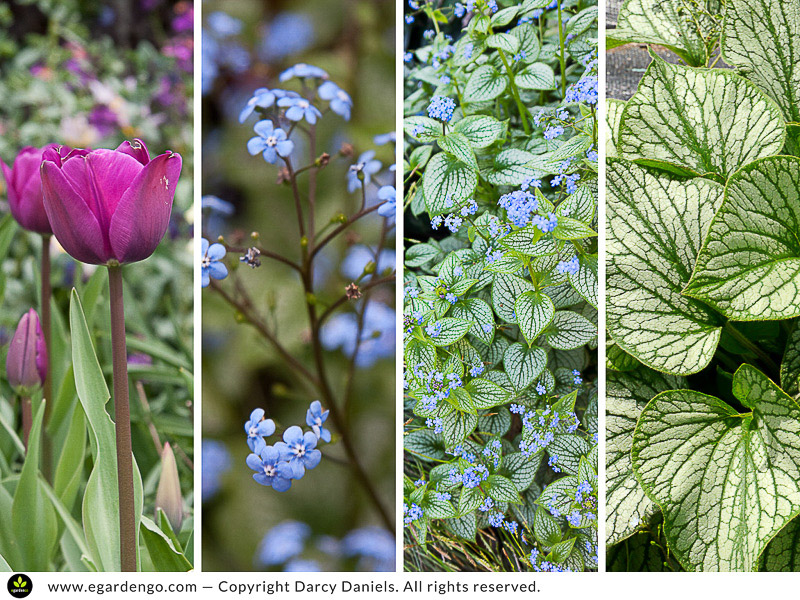 ---
A classic bulb pairing (above) includes Brunnera' Jack Frost', whose froth of blue blooms coincide perfectly with spring-blooming tulips. Planting a tulip in a complementary shade around its crown would create a lovely display as it mingles with the delicate blue flowers. Later, the large silvery-white, hosta-like leaves would mask the unsightly decline of the bulb foliage.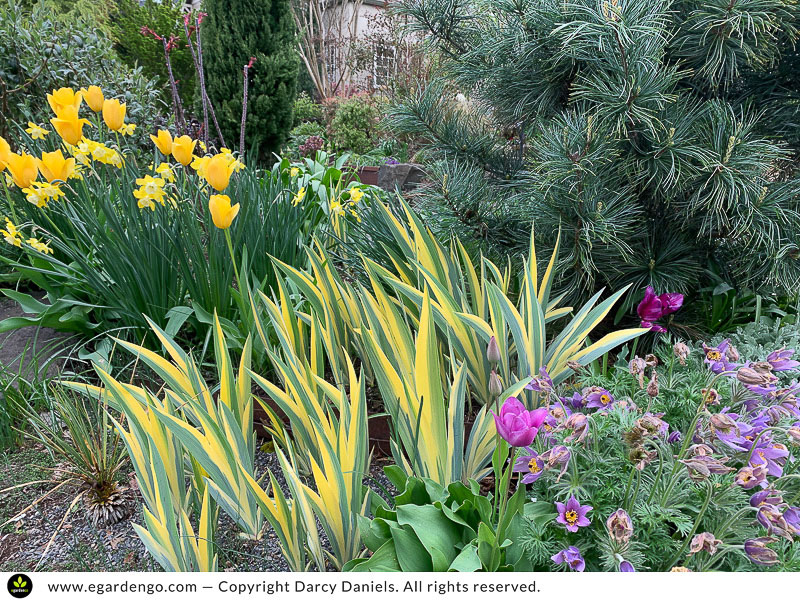 ---
In this scene (above) from my garden yellow and purple tulips and daffodils are lovely additions that echo the color of neighboring foliage and flowers. While important to the overall scene, they aren't the only thing going on—part of the show, not the show.
---

MIND THE GAPS

---
But it's important to note that I don't start with bulbs: they're one of the last details, the last thing I plant. Why? Because it's important to wait until after planting the foundational plants that help to establish the shape, function, and flow of your garden. The bulbs belong in the "gaps."
Where are the gaps in your garden? Try to visualize where you have bare patches of soil in spring; the spots where other plants will make their presence known in late spring or summer. By using these "leftover" bits of soil you'll be adding another season of interest to the same area.
A classic bulb placement is around the crowns of herbaceous perennials and grasses such as hosta, sedum, or Japanese forest grass. Plant with a plan for the future–leave enough room around the perennial's crown to allow for future growth.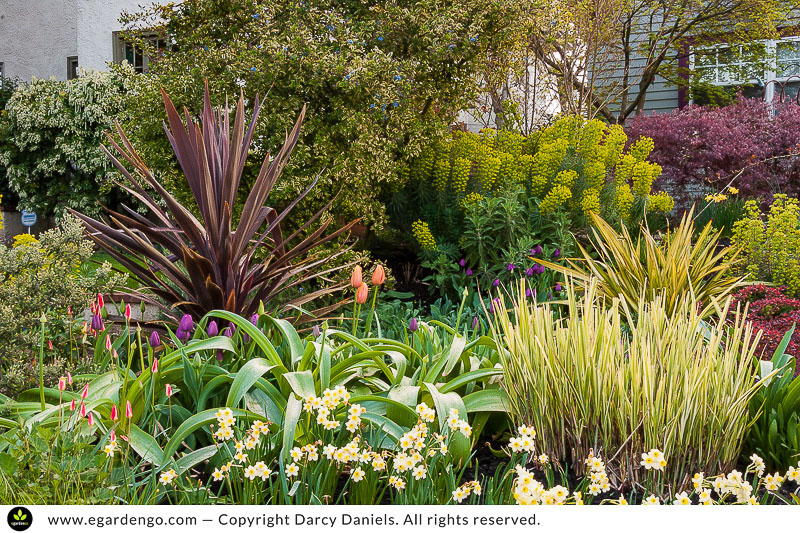 ---
This scene from an earlier incarnation of my garden shows LOTS of bulbs interplanted around large late-season ornamental grasses.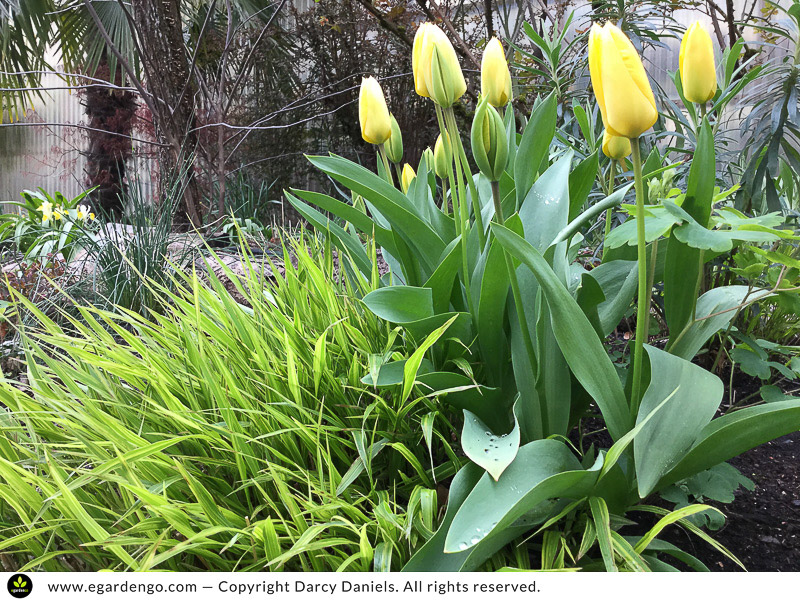 ---
Planting spring-blooming bulbs around the crown of summer perennials is a classic strategy for masking the unsightly, but essential withering foliage. In this photo, a clump of yellow tulips is planted around the crown of Japanese forest grass (Hakonechloa macra 'Aureola').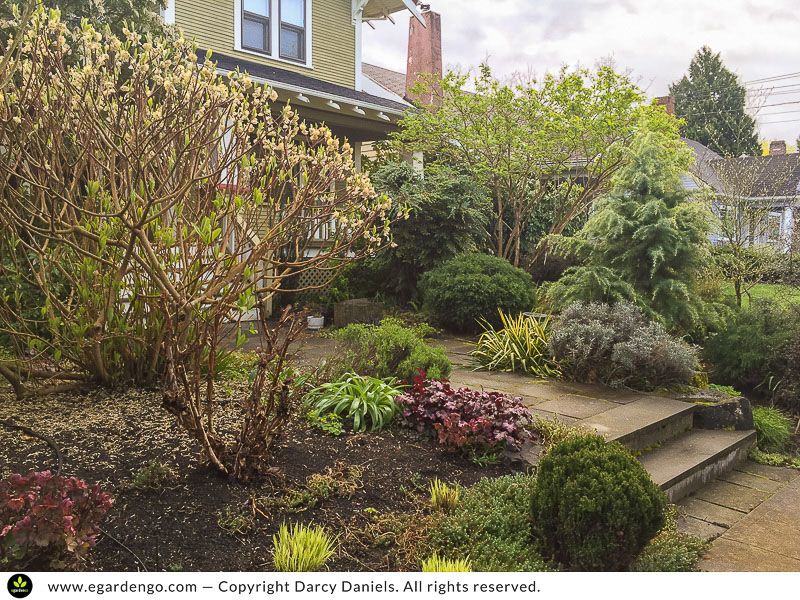 ---
In this recently cleaned-up and cut-back bed, it is easy to see where the "gaps" are. Adding early blooming bulbs in the areas around the crown of the emerging grasses and perennials will add another season of color and the withering foliage will be hidden by the maturing plants.
---

PAIR WITH A GROUND COVER

---
Another way to artfully add bulbs is to pair them with ground-hugging plants such as those listed below. Adding a mat-forming plant to cover the bulbs will add additional blooms or fab foliage. As long as you choose bulbs with reasonably sparse foliage, the groundcover will help hide the brown and withering leaves in addition to adding another layer of interest to your garden scene.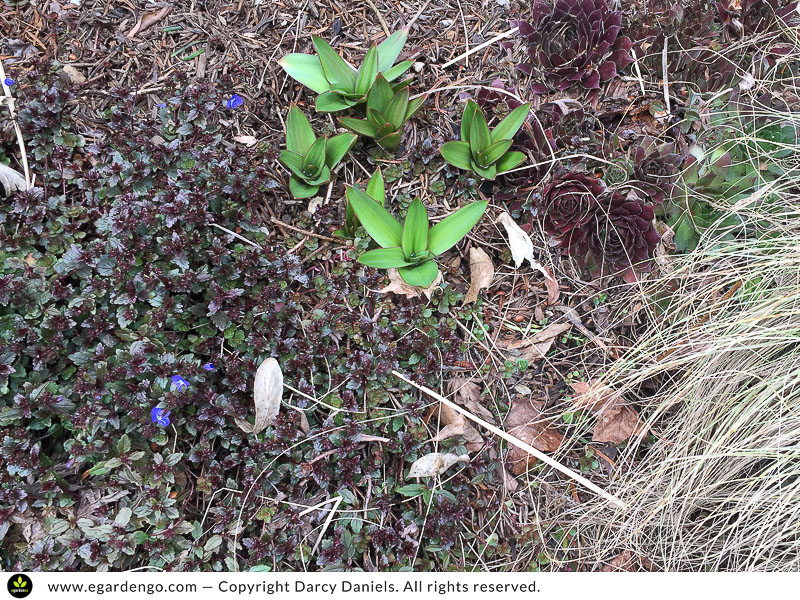 ---
Not very showy at the moment, but the emerging rosettes of green foliage hint at the show to come: Globemaster allium will erupt from a ground-hugging carpet of Veronica 'Georgia Blue' and hens and chicks.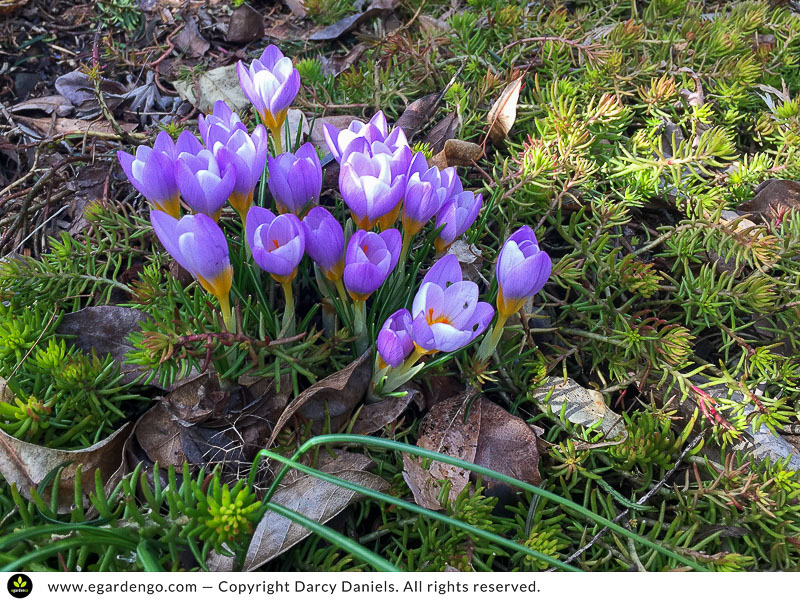 ---
Sedum 'Angelina' is a winning ground cover on its own but allowing it to mingle with cheery crocus will add a welcome splash of color in early spring.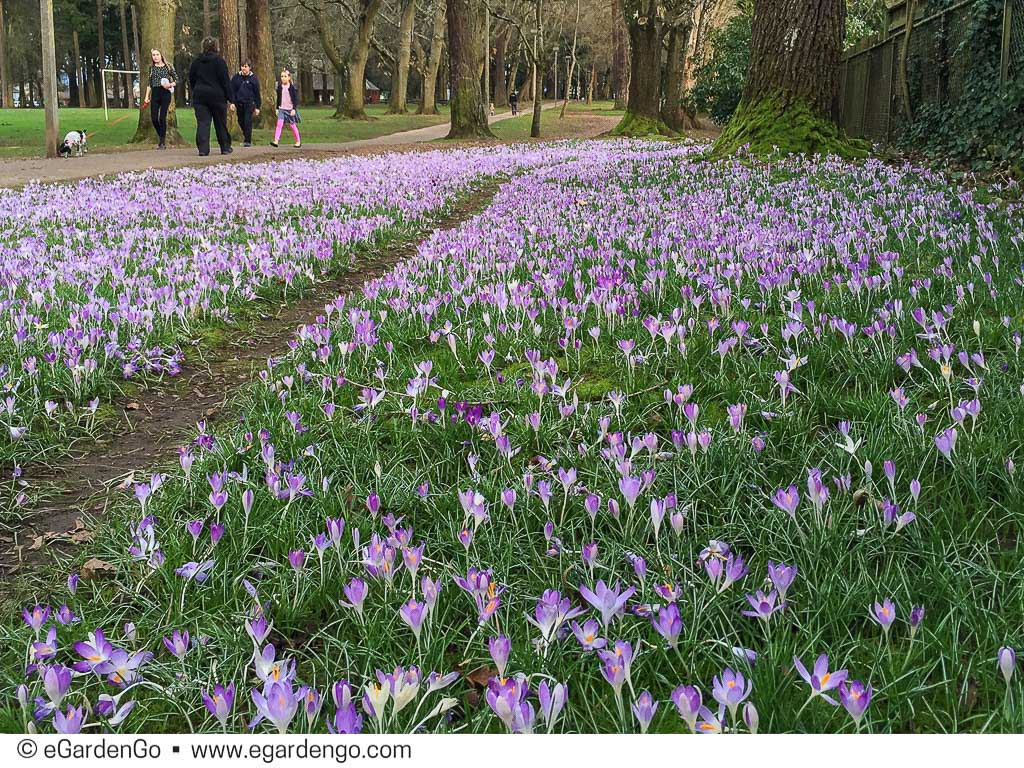 ---
Crocus naturalized into turf grass is another classic way to add easy spring color.
---

AIM FOR A GRACEFUL DEMISE

---
Another consideration for me when selecting bulbs is choosing those that bloom early and fade gracefully. Galanthus, crocus, and the early, miniature daffodils fit this bill and are an especially welcome sight when they spring on the scene in late winter the following year.
In an ideal plant combination, the summer foliage of the plant with which you've paired your bulbs will hide the bulb's withering foliage: the hosta and Japanese forest grass mentioned above are great examples of this.
In some cases, the show goes on well after the color fades from the blooms. For example with alliums, the tawny, dried flowers often remain architectural and interesting to look at as they age.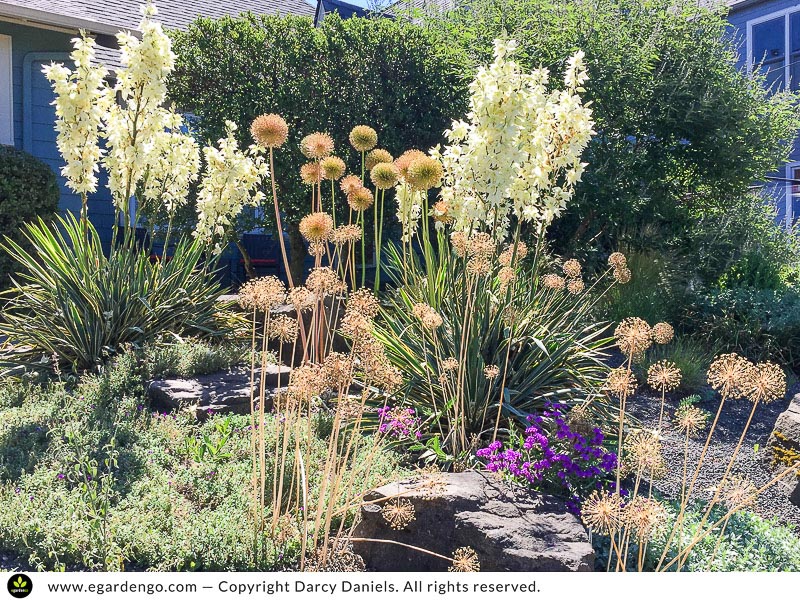 ---
In this garden the allium steal the show—even after the color has faded.
---

EXPERIMENT IN CONTAINERS

---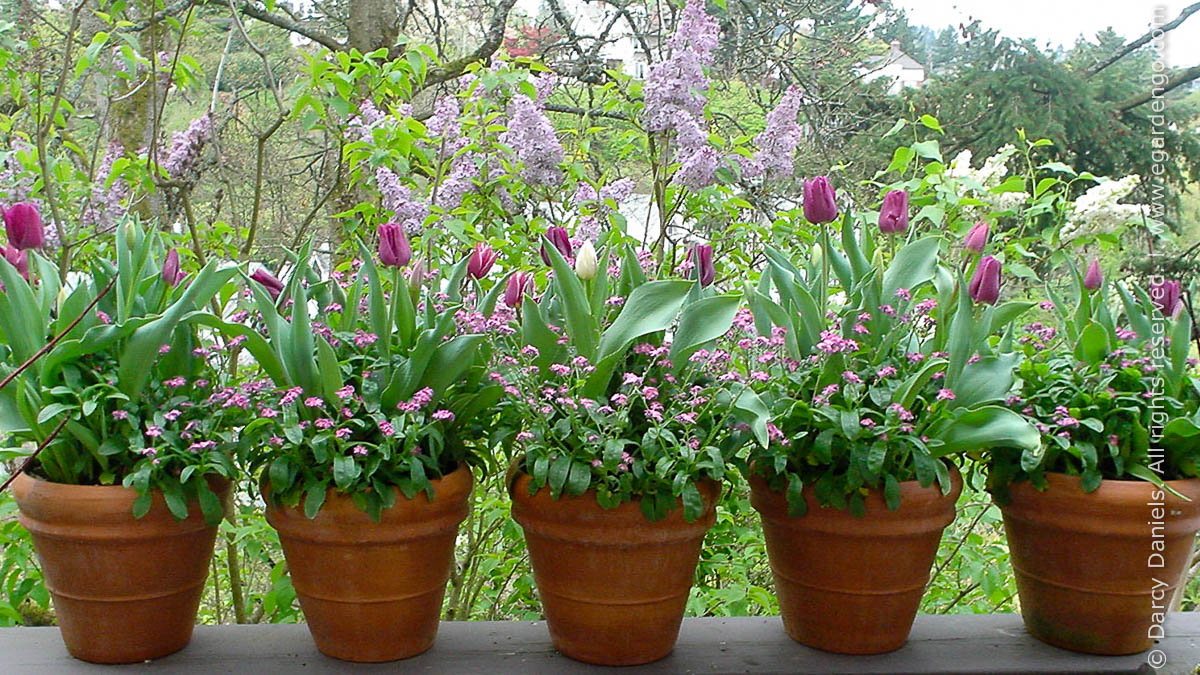 ---
Not sure which combination of bulbs will look the best in your garden? Try out bulbs in a container first. By planting in a container you can test a color combo or bloom sequence before planting it out in your garden.
Planting a variety of bulbs in small, portable containers (such as the 6-inch nursery pots you probably have lying about) will allow you to nestle the bulbs wherever you want a splash of color when they're in peak bloom.
Or you can use containers to opt out of the post-bloom blues. In small gardens, every inch of ground is precious. One space-saving strategy is to stuff bulbs in a container, allow them to produce their riot of color, and when they're done tuck them out of the way where their withering foliage–important for feeding next year's show–is out of view.

---
LEARN MORE
---
Here on eGardenGo, we focus on the design aspect of garden-making—encouraging gardeners of all levels to create planting combinations that look great and perform well.
To learn more about the care and culture of bulbs you might enjoy these articles:
---
advertisement
---