Every gardener falls in love with certain plants only to discover (sometimes the hard way) that they aren't going to thrive in their garden, due to incompatibilities with space, sunlight or other plants. The hard truth is that no matter how lovely a planting combination appears to be in your cart at the nursery, the plants won't grow to their potential when placed together if they aren't culturally compatible.
Failure can occur on a continuum. Perhaps one plant will be a perfect match for the space you have in mind, while the other will tolerate it there, but fail to thrive. Two common signs that plants aren't in the environment they prefer are (1) blooms visibly leaning and stretching for the sun, or (2) foliage getting burned from too much sun exposure. In both cases, the plant is unable to put its most beautiful face forward because it's surviving, but not thriving.
In order to avoid falling for plants before validating their compatibility, it's essential to consider the needs of each one you select and to ensure that your garden can meet their minimum requirements. In other words, you'll stand a better chance of creating a healthy, beautiful garden if you adopt this simple principle: before art, science.
---
Here are 5 steps you can take to master this principle in your own garden:
---
Step 1: Know what your garden can provide
Does your garden offer ample sunlight, or does it lean on the shadier side? Are there areas that are perpetually moist due to an underground spring or high water table? How much space do you have? Do you have enough space to accommodate a given plant's mature size? Knowing the answers to questions like these is the first step to creating a thriving garden.
---
Step 2: Read plant labels
This step might seem obvious, but it can't be stressed enough. It's important to read the labels on each plant you select at your local nursery.
For example, Fatsia japonica 'Spider's Web' is a fantastic foliage plant. Its bright, bold foliage will light up the shady corners of your garden. It's fun to grow — its large glossy foliage lends a dramatic air and a touch of the exotic wherever it's used. But once you've got this brightly variegated Japanese aralia in your cart, the next question is: what shall I plant with it?
Bold foliage begs to be answered with fine foliage. Both of the potential partners presented below are very pleasing from a color and texture standpoint.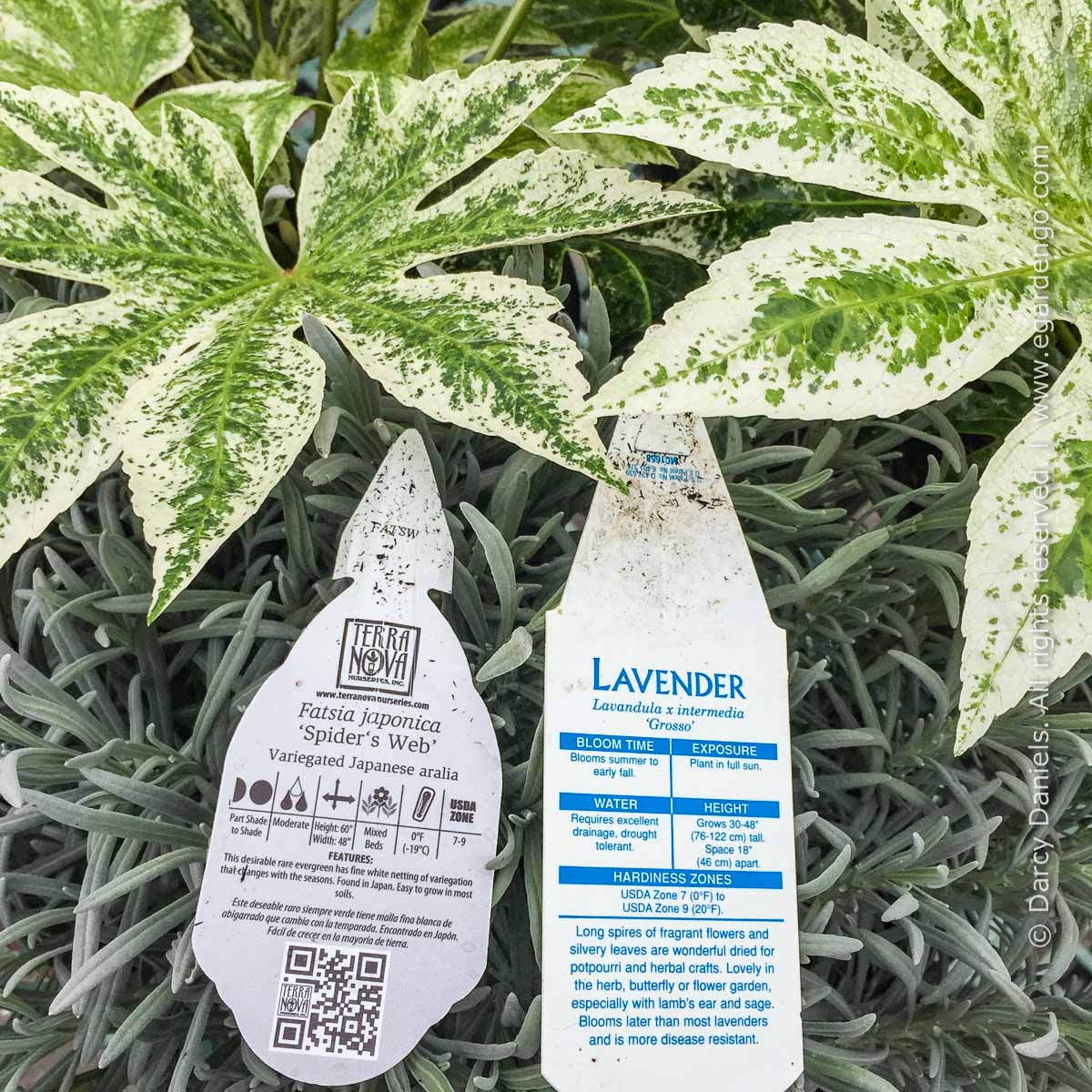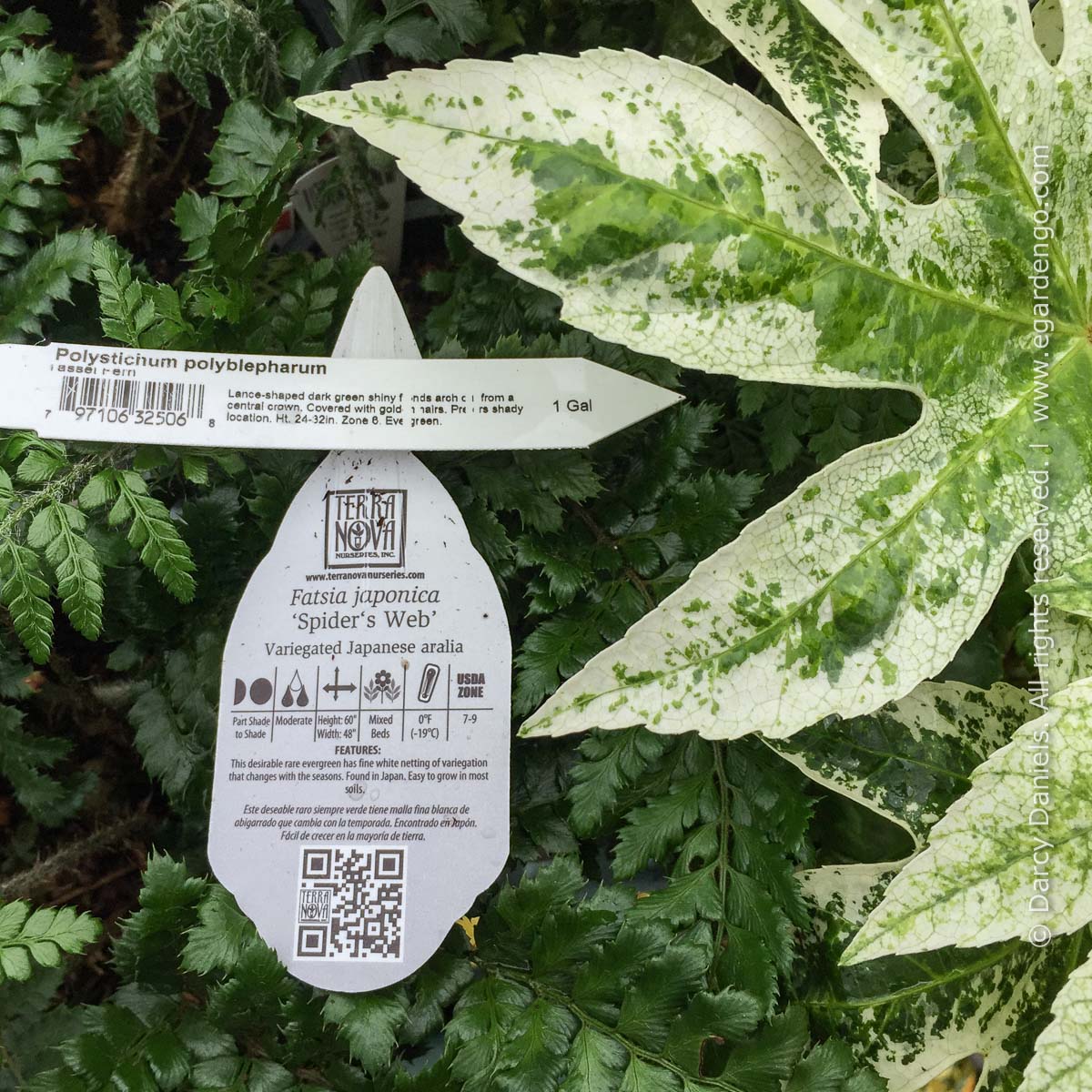 Upon closer examination, the option of pairing with the lavender is quickly eliminated (photo below). They look fantastic together in the cart, but they'd hate growing together in your garden as they're polar opposites in terms of desired conditions. Lavender grows best in full sun, the more the better. In similar conditions, the fatsia would fail to thrive as it much prefers a shady spot.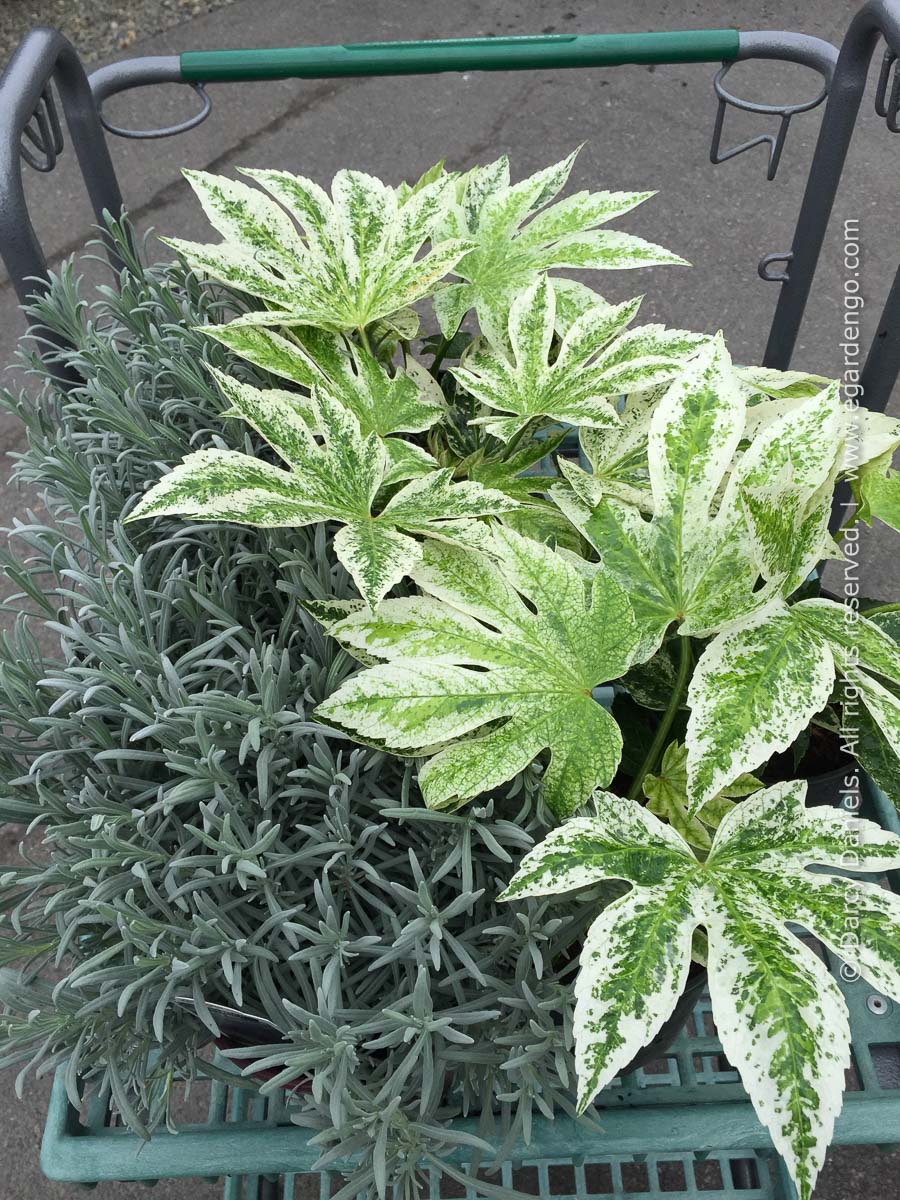 Alternatively, when paired with the tassel fern (Polystichum polyblepharum) this vignette is a winner. This compatible combo will look good year round (photo below).
Make sure the follow the links to discover even more planting combination ideas that incorporate Spider's Web Japanese Aralia and tassel fern; all plant combos have been vetted for cultural compatibility and good looks.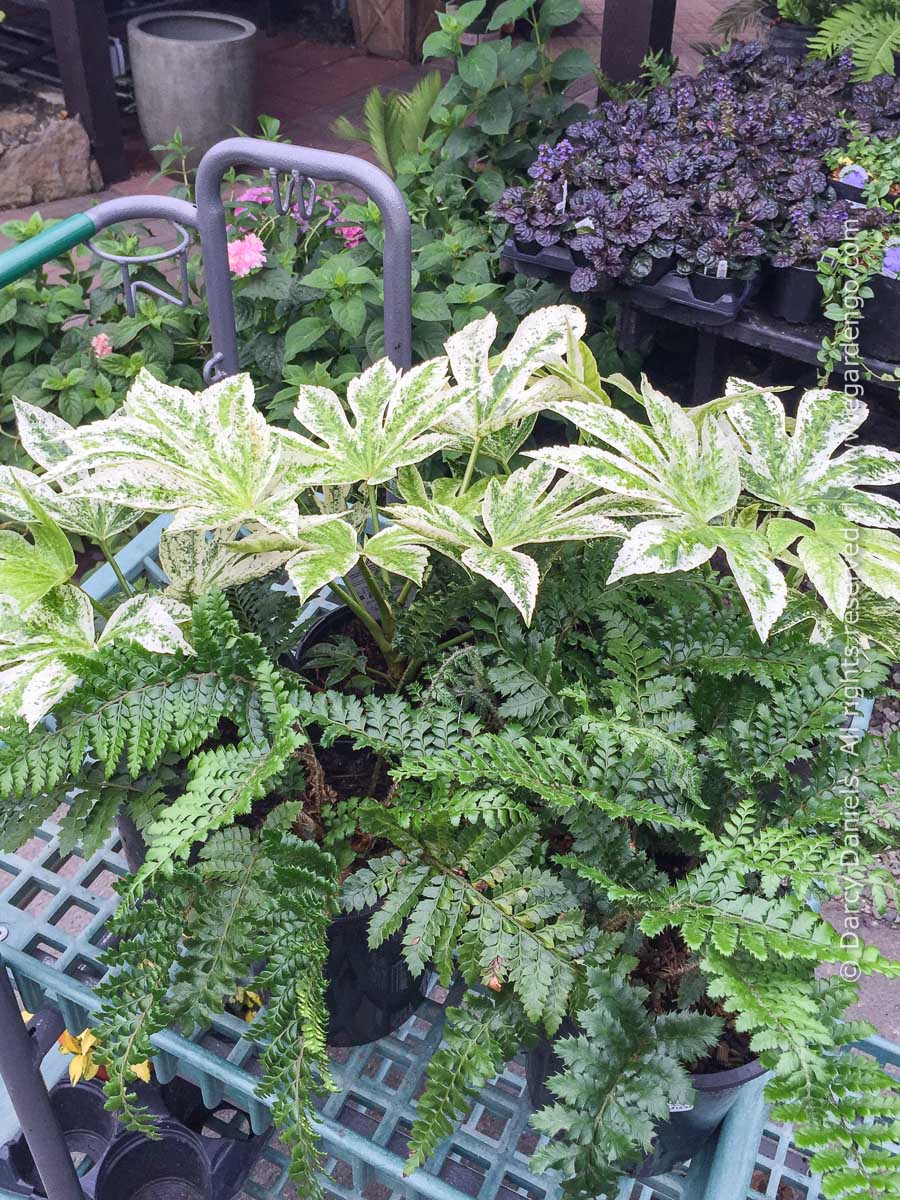 ---
Step 3: Research thriving plant combinations
The usual way to do this kind of research is to turn to books or the internet, or to take inspiration from nurseries and the gardens of friends. But with the advent of eGardenGo, you're now able to search a powerful plant database on your mobile device or desktop computer. Not only will you be able to quickly learn about specific plants, but you'll be able to explore plant combo recipes hand-selected for you from the work of a professional garden designer and other talented Pacific Northwest gardeners.
---
Step 4: Accept that some of the plants you like just don't make the cut
It's better to know that plants won't grow well together before you leave the nursery than after you get home and start digging! If one of your favorites just doesn't make the cut due to incompatibility, ask yourself why you liked the plant, and look for another one that offers similar color or texture attributes, but that has needs your garden can meet. Better yet, search the eGardenGo site for plants with similar design attributes, but with different cultural needs that match your climate and garden location.
---
Step 5: Don't be afraid to start fresh and go back to the drawing board
If science outwitted your artful garden vision, don't despair! You just have to be willing to make a change and find something that works better. If you're still at the nursery, there are always more plants to choose from; if a plant is in the ground already, you can either transplant it, re-position it, or gift it to a friend if you can't provide optimal circumstances.

---
Although it's tempting to grow a garden inspired by looks alone, science is the true foundation for success. In fact, when you let plant compatibility guide your selections, that's when you can really play with design, because you can rest assured the plants with thrive. The eGardenGo site is loaded with compatible planting combinations and garden recipes.
Ready to get started?
---
Ideas and Inspiration to Get You Started!