Yes, summer is still in high gear in the Pacific Northwest, but it does feel as if we're seeing the back side of the hot weather's last hurrah. As the angle of light settles lower, a sense of the changing seasons is setting in; routines are on track for a big shift as schools ease back into session and thoughts of fall garden projects percolate into our consciousness.
But if previous years can be a guide, we've got many days in store of pleasant temps and many opportunities to continue enjoying the garden enchantments of the season. So as we steer a course for fall, I'd like to take a moment to revel in some ornamental grasses, fantastic contributors to autumnal scenes, that are taking center stage in gardens now.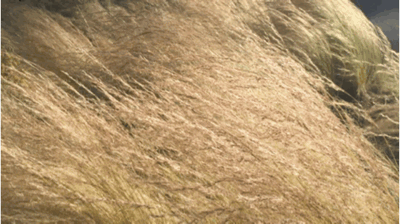 Some grasses are especially wonderful for introducing a dynamic quality as they flow and move, catching the light and the breeze. Two examples: Nassela tenuissima (above) and Miscanthus sinensis 'Adagio' (our featured image) are particularly showy in late summer and into fall.

---
Inspiring Images of Grasses in Gorgeous Gardens
---
---
Top Picks for Late Summer Grasses
---
These are some of my current favorites. Follow the individual links to learn more about them and to get ideas for planting combinations that incorporate them. To browse all the ornamental grasses on the site, follow this link.
---
---
Drought-tolerant Combos in Which Late-season Grasses Shine
---
Follow the links below to learn more about the individual plants included in each of the featured plant combinations. To explore even more combos that include fall grasses, follow this link.
---
Zone: 7, 8
Exposure: Afternoon Sun, Full Sun, Reflected Heat


view combo

Zone: 8, 9, 10
Exposure: Afternoon Sun, Full Sun, Reflected Heat, Full Sun


view combo

Zone: 7, 8, 9
Exposure: Afternoon Sun, Full Sun


view combo

Zone: 7, 8, 9
Exposure: Afternoon Sun, Full Sun, Reflected Heat, Full Sun


view combo

Zone: 5, 6, 7, 8
Exposure: Afternoon Sun, Full Sun, Reflected Heat, Full Sun


view combo