The current trend toward simpler, tidier gardens points toward using a more restricted palette of plants. While landing on a small number of plants to use in your garden can be an effective means of achieving a cohesive whole, simplicity is not necessarily simple to achieve. But there are at least three good reasons to consider limiting yourself in this way when creating your garden.
---
To get your creative juices flowing, I offer up this video. It's a case study of real-life garden that I designed where I used a limited plant palette.
Link to the plant combination featured in this video.
---
Towards the bottom of this post you'll find simple, low-maintenance plant combos for inspiration. To get even more help visualizing how to add some of the combinations from the eGardenGo site to your garden, these plant combos have planting plans available for download. It can be tricky to get the quantity and spacing right without a detailed plan. These schematics will show you how to lay the plants out, employing the idea of repeating the smaller plants by grouping and dotting them about the shrubs and/or larger plants, to create a cohesive vignette.
Now on to the three reasons!
---
① You Get an Instant Framework for Decision-Making
Once you've decided to impose some limits on your selections, you'll want to make sure that you've got all your bases covered. Before you pick any specific plant, consider, for example:
DESIGN
What are the design functions you want each element to contribute to your overall planting scheme? For example, does each provide something, such as an evergreen presence, seasonal interest in the form of bloom, colorful foliage, and/or fragrance? And you'll want to make sure that your scheme is not overly static and includes cyclical changes—that it navigates the delicate balance between all-season structure and the livelier contributions of flower and foliage.

Do you have an assortment of plant shapes in your palette? Pleasing compositions rely on a variety of plant shapes and textures arranged in companionable association with each other. For example, the artful selection and thoughtful grouping of a rounded form with a columnar shape, a ground-hugging carpet, and a wispy texture that will catch the breeze will result in an agreeable and sculptural arrangement.


NEEDS —YOURS AND THE PLANTS'
If you have any special needs that you want your plants to fulfill, such as screening an unsightly view, providing shade overhead, or covering the ground, you'll want to make sure that they're up for the job.

And of course you'll need to make sure that you're considering the cultural needs of the plants you're assembling, ensuring they share the same requirements.
Now that you've pictured the plants that will achieve the look you're going for, you can go about the process of identifying the actual plants that meet that description. For example, a sun-loving, finely-textured evergreen shrub with blue-gray foliage that wants to be about 2 feet x 2 feet becomes Hebe sutherlandii. To help you identify candidates for your composition you can search the eGardenGo plant database for design-oriented attributes like foliage color, plant shape, and size.
---
Zone: 7, 8, 9
Exposure: Afternoon Sun, Full Sun, Reflected Heat, Full Shade


view combo

Zone: 7, 8, 9
Exposure: Afternoon Sun, Full Sun


view combo
advertisement
---
② Makes it Easy to Use Repetition as a Design Principle
Now it's time to step back to consider the bigger picture and how the whole scene will knit together into a cohesive whole. Using repeated elements in your garden will add a sense of unity and an overall cohesiveness to your design, contributing a calming influence and a sense of serenity.
There are a couple of common ways to use a plant repeatedly in the garden. Planting in groups works well for perennials and grasses; depending upon the size of each of the individual plants, they'll have more impact if planted in multiples of 3 to 7 plants. Good choices for this type of placement include plants like Heuchera, Geranium, Echinacea, and some of the ground-covering evergreen grasses like Carex oshiomensis 'Everest'. Another common way to repeat a plant is to dot it around, which has the effect of leading the eye or body from point to point, introducing a sense of rhythm and movement to the scene.
There's a fine line between having enough repetition such that the overall scene hangs together and tipping into too much, which can be boring and well…repetitive. Making sure that you've considered how the elements of your overall planting palette work together, as outlined above, can really help in skirting this issue.
---
Zone: 6, 7, 8, 9
Exposure: Afternoon Sun, Full Sun


view combo

Zone: 5, 6, 7, 8, 9
Exposure: Afternoon Sun, Full Sun, Reflected Heat, Full Sun


view combo
advertisement
---
③ Limit Your Planting Palette for Manageable Maintenance
Whether you've been gardening for a long time, or you're new to the pastime, we're all on the lookout for strategies to help keep the maintenance tasks associated with our gardens in check.
When using repeated plants, you'll be more likely to be able to batch your chores. For example, when it's time to cut down the grasses – boom, down they go. Time to clean up the end-of-season detritus of the hostas? Done in a jiff. And if you'd like the option of getting some help with your garden, the smaller number of plants will be easier to track and not as likely to be mucked up by the helping hands of a periodic garden maintenance crew.
And for newer gardeners, fewer plants mean that there aren't as many individual plants that you'll need to get to know in order learn their distinct maintenance regimens.
And your plants needn't necessarily be identical to take advantage of this: a lot of times, the plants just need to be similar enough so that they're treated the same and they have similar routines. For example, the dwarf variety of maiden grass (Miscanthus sinensis 'Adagio') and the finely-textured, variegated form (Miscanthus sinensis 'Morning Light') could be considered a single choice, from a maintenance standpoint.
---
Dwarf Maiden Grass

Type: Grass / Grass-Like
Exposure: Full Sun, Full Sun, Afternoon Sun
Zone: 5, 6, 7, 8, 9

view plant

Japanese Silver Grass

Type: Grass / Grass-Like
Exposure: Full Sun, Full Sun, Afternoon Sun
Zone: 5, 6, 7, 8, 9

view plant
It can take a bit of effort and thought to hone in on a planting palette, narrowing it to the essentials, but the results are well worth it. The trick is to pare away the excess, then evaluate and reevaluate until the make-up of your selections is just right.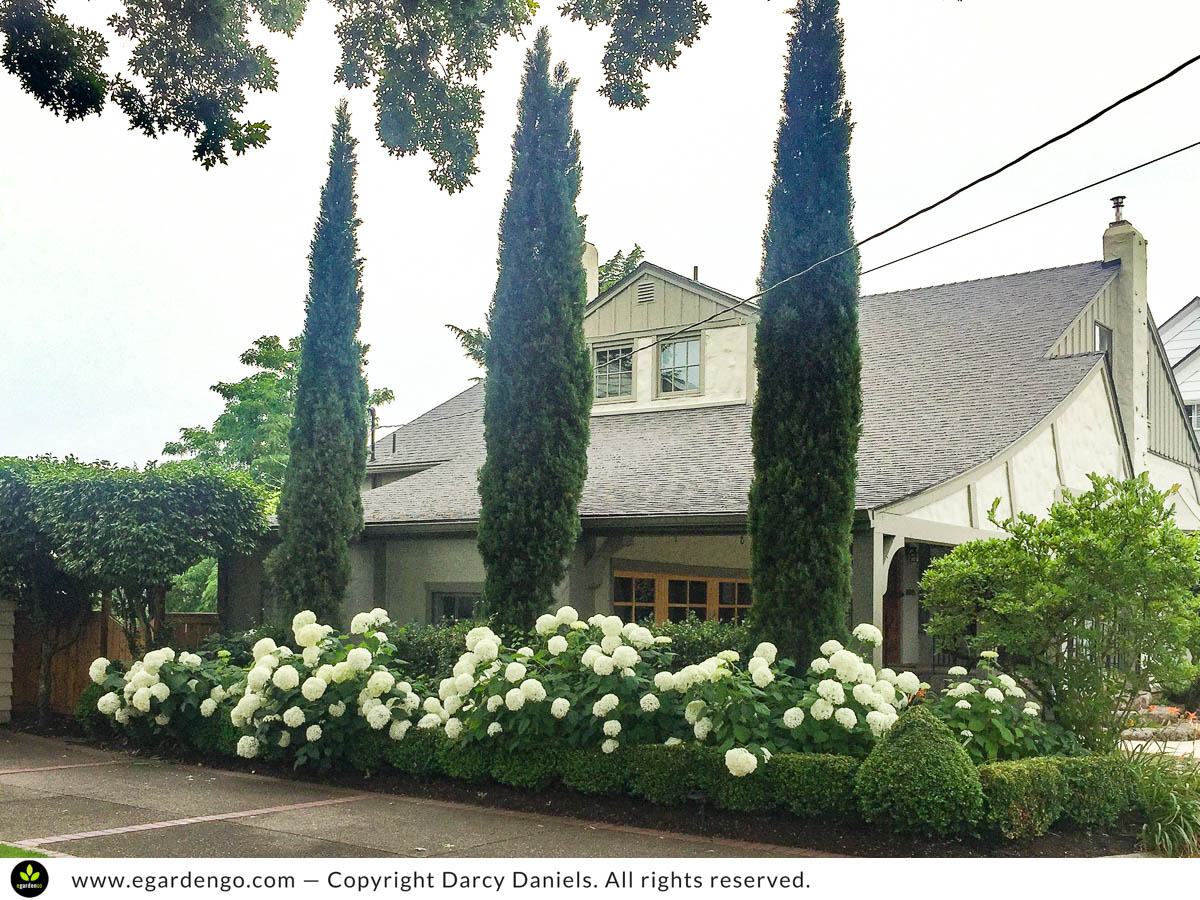 ---
advertisement
---