Inspiration for adding interest to the winter garden is everywhere. Garden books, magazines, and online resources are chock-full of ideas. It's easy to extol the virtues of individual plant suggestions: colorful blooms, sexy bark, showy stems, handsome foliage, a decorative dried form, or delicious fragrance. Yup, there are some pretty fantastic winter gems on these lists and it's easy to add one to your garden. Heck, if you're really on top of things, you might even think about planting your new winter garden attraction where you can easily enjoy the seasonal spectacle from the cozy interior of your home when the outdoors is less than beckoning.

In any case, let's presume that you've selected a plant that puts on a show in winter to add to your garden. Now what? How do you go about rounding out the scene and creating a pleasing garden composition that holds together for the rest of the year?
I recommend that you begin by trying to understand everything you can about your anchor plant:
Where is your plant native to and who does it like to hang out with?
What are its strengths—and does it have any bad habits you should know about?
What season is it at its best?
How would you describe your plant's physique: the shape of its body, and the texture of its foliage?
What does it want to be when it grows up?
I want to know all this and more before I proceed to the task of horticultural matchmaking.
Perfect plant pairings rely on sufficient similarities to ensure that the partners are companionable in all the important ways; for example, that they share the same basic growing needs. Beyond that, contrasting differences are equally important. A rounded form begs to be paired with a vertical one. Bold foliage calls out to fine. Yes, variety is the spice of life and, as it happens, gardens too.
---
Creating year-round interest in a Pacific Northwest garden
---
This front-garden-worthy foundation planting features a simple and sophisticated plant palette. The headliner is Stewartia monadelpha, a deserving tree for small gardens. With limited planting space, the bar is high and this tree delivers with its summer bloom, fall color, and beautiful bark that stars in the winter garden. Rounding out the scene is a composition of plants in a variety of sizes and textures with blue, silver, and green foliage. Evergreen plants, in collaboration with winter-blooming hellebores, ensure a good show in the quiet season as well.
---
A front-yard-worthy plant combination
---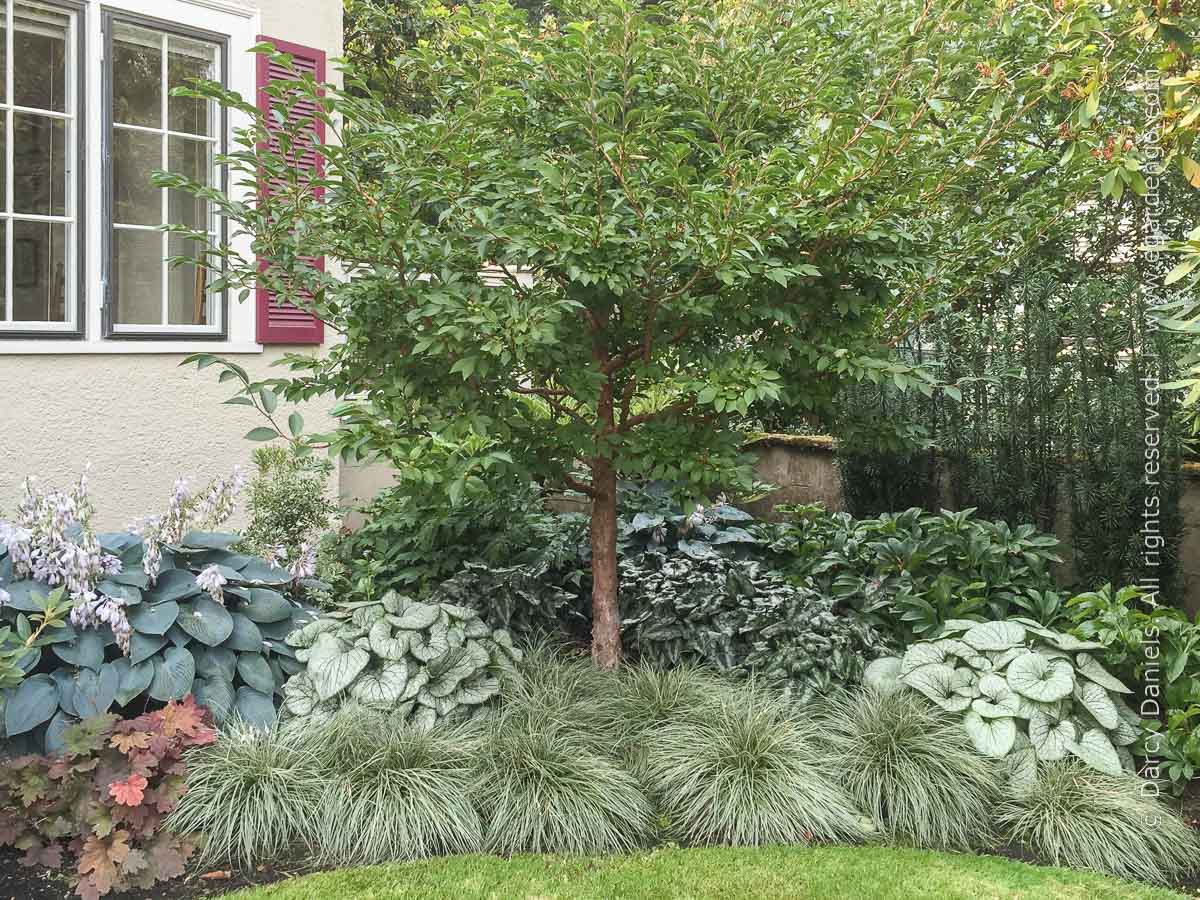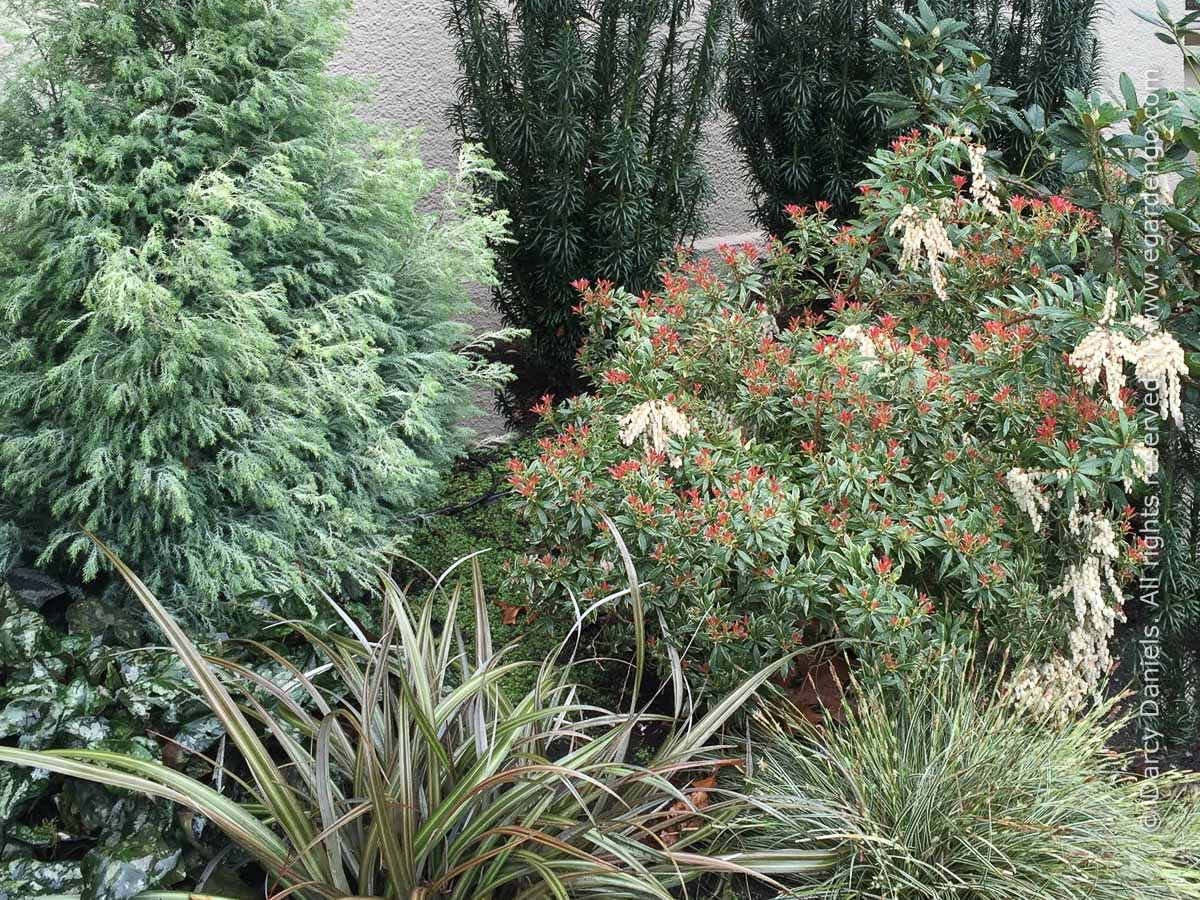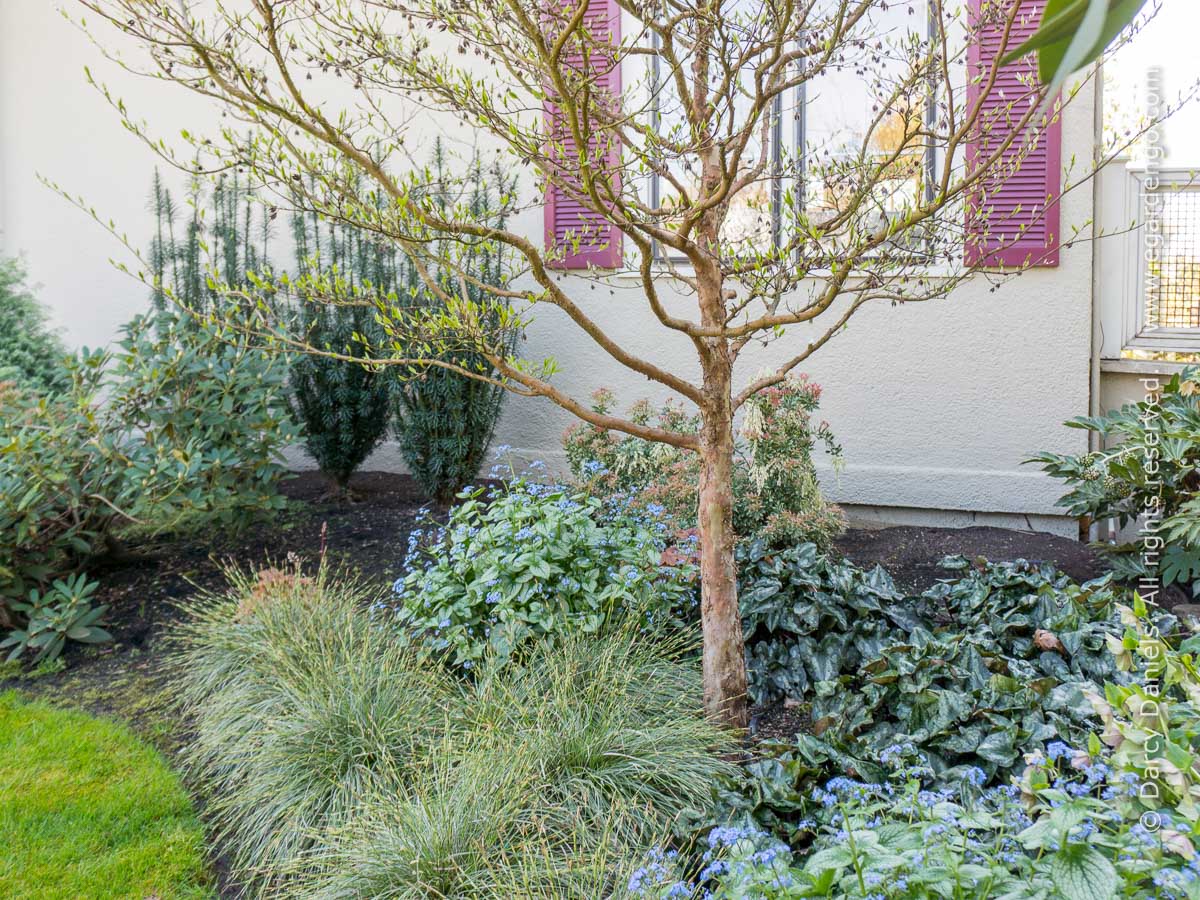 ---
Spring color and a pleasing seasonal progression in this front entry garden is offered by Pieris japonica 'Little Heath', pictured here with coral-pink new growth and panicles of ivory blooms. The strong, strappy form and distinctive pewter tones of Astelia nivicola 'Red Gem' are a visual anchor, especially striking set against the creamy white fluff of Chamaecyparis lawsoniana 'Barry's Silver'. Tufts of finely-textured Carex conica 'Snowline' coupled with the bolder foliage of Asarum 'Quicksilver' are an effective duo along the front edge and Cephalotaxus harringtonia 'Fastigiata' brings up the rear with its rich green foliage and compact vertical form. This pleasing composition is good for compact spaces anywhere as the selected plants are relatively slow growing.
The garden begins to wake up in late winter as blossoms of hellebore hybrids are joined by a froth of blue blooms on Brunnera 'Jack Frost'. The cinnamon tones of the Stewartia bark are amplified by the echo of neighboring foliage; the coral-flushed new growth of Pieris japonica 'Little Heath', and the vibrant new foliage of Heucherella 'Sweet Tea'.
---
advertisement
---
Though this vignette is best suited for gardens in the Pacific Northwest, gardeners in drier climates can achieve similar effects by selecting a palette of plants built around an anchor that offers changing seasonal interest and by building out the composition with contrasting textures and colorful foliage. Manzanita (Arctostaphylos sp.) is beloved for its sinuous form and rich chocolate-toned bark that is either smooth or peeling depending on the season. The availability of garden-worthy varieties has dramatically improved over the last several years thanks to the increasing selection being offered in the nursery trade. Yuccas introduce a touch of drama and give your garden scene a strong focal point. Yucca rostrata (pictured below) has fine blades, while Y. filamentosa 'Color Guard' leaves are broad; both are striking throughout the year.
---
Adapting for Drier Climes
When designing a landscape for four-season interest, I've found it helpful to start by considering its effect in winter and work backward through the rest of the year. Once I've got a winter gem (or two), I set about finding its perfect planting partners—combinations that will round out the scene in complementary ways to create a winter-worthy vignette that looks sweet year-round.
---
This article first appeared in the Winter 2017 Issue of Pacific Horticulture magazine.